I've worked with 100's of Australian businesses to achieve their online goals.
View my business website designs, logo designs and infographics on Pinterest.
How can I help you grow your business?
I need more website traffic
In Australia, 92.7% of people use Google to search the Internet. SEO, or search engine optimisation is the process of improving the visibility of a website in Google search results.
SEO is more than just ranking, it's about increasing leads and sales by boosting targeted website visitors interested in your products and services.
Wondering how you can grow website traffic and sales with Google search engine optimisation? Your not alone, many business owners know they need to be found on Google but don't know where to start.
That's why I founded SEO Copilot, affordable SEO services for Australian businesses that get results without the smoke and mirrors.
Boost Website Traffic
I Need Help with WordPress
More and more business owners are choosing WordPress for their websites.
What is WordPress? This world leading platform enables website owners and developers to quickly and easily update, customise and maintain a business website.
If your website is not built using WordPress, talk to me.
If you already have a WordPress website, WP Copilot can take it to the next level!
The WP Copilot team of WordPress experts are helping businesses maintain and grow their websites to convert more visitors into customers.
The membership also includes WordPress tutorial videos, ebooks, maintenance and security options for a stress free WordPress website.
Expert WordPress Help
I need a website design
When you invest in a website design, it's essential that it engages your audience and grows your business. That's why I take the time to understand your business, and build a website your clients will love.
Personalisation & Branding
It's important that your website reflects your brand perfectly. Custom design with attention to detail ensures your website matches your brand. Don't have a logo? I can create a business logo that is professional and visually appealing to your target demographic.
Mobile Responsive Design
Having responsive web design is essential in our world of tablet devices and smartphones. Responsive design ensures that a website is optimised whether somebody is viewing it from their work PC, their iPad, or their Android phone.
Social Media Integration
I encourage clients to be active on at least one social media platform, so integrating social media feeds, links, and share buttons into every website is a standard. This will ensure that the content you create has the potential to be shared amongst the online community, growing exposure and sales.
Website Conversion
Taking time to understand your business goals is important to me, after all this is what it's all about! Do you want to grow your list of email subscribers? Sell products or digital goods? Drive foot traffic to your premises? Crafted forms, maps, and calls to action will maximise website conversions.
Email & Lead Capture Forms
Do you want to grow your list of email subscribers? Because we can incorporate email marketing forms on your website for you. We can also include a contact form on your contact page, as well as Google Maps integration so that people will have no problems finding you.
Search Engine Optimisation
A great looking website is not worth much without visitors. I will set up your website with the best SEO plugins to ensure that you can optimise every page you create. I'll also configure your Google Analytics profile so that you can easily track and monitor your website traffic.
WordPress Website Training
A website can only be as good as the person managing it. That's why I provide WordPress website training so you know exactly how to get the best from your site. As the founder of WPCopilot, I can also give you a great deal on comprehensive WordPress support services.
Your Choice of Hosting
I'll install and setup your WordPress website on the hosting platform of your choice. And if you don't have a preferred hosting platform, I'd love to introduce you to
Digital Pacific
for website hosting who always impress me with their exceptional performance and service.
To guarantee the highest quality end result and a personal service, I take on a limited number of website design projects. Get the conversation started,  let's discuss your business website design and prepare a personalised website quotation.
For a website design your clients will love...
Speaking
Presenting to small business groups and meetups is something I really enjoy.
That's me at Swinburne University presenting the 2014 SEO Roadmap to the Melbourne Joomla Users Group.
Get in touch if you would like a free SEO or WordPress presentation to your business group.
Recent Posts
eBooks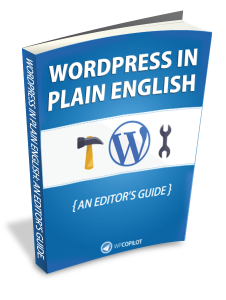 WordPress in Plain English
This ebook is written for WordPress administrators and editors to create and update their content easily, efficiently, and stress free.
WordPress in Plain English: An Editor's Guide is a complete guide to all the editor functions in WordPress.
11 Ways to Boost WordPress Security
What would you do if your website was hacked? It may take several days to realise your website is hacked in the first place. By then you've lost sales and had your reputation damaged (through a defaced website or spam emails sent from your account).
Best not to find out! Follow these 11 ways to boost WordPress Security
How to use Twitter for Business Success
This popular ebook (originally written for ClickWebDesign) is currently being updated for 2015, so I'm sharing the first edition free on slideshare.
Inside are 19 pages of hands on Twitter tips and tricks to maximise leads and grow your network. Please subscribe at the top of this page to get the 2015 Twitter for Business eBook.